Chocolates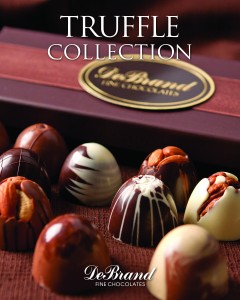 DeBrand Fine Chocolates
Truffle Collection
The perfect gift for the ultimate chocolate lover. These 4 pc., 6 pc.or 12 pc., with many incredible variations, seem almost too beautiful to eat....almost. Each oversized piece is individually and artistically designed, but their true beauty lies within. Each silky rich truffle is like a petite, luxurious chocolate dessert! We happen to think they are the finest chocolates we have ever tasted!!
More Info

DeBrand Fine Chocolates
Classic Collection
The ideal gift for the person who appreciates quality. Timeless favorites make up 4, 8 or 14 piece boxes. It is our most popular collection, which contains luscious caramels, pure fruit creams bursting with wonderfully intense flavors, as well as many other unusual and traditional varieties. We believe this chocolate is better than even Godiva! This gift is only available locally.
More Info